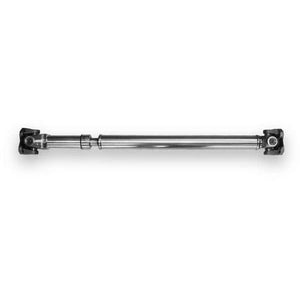 TOM WOODS D90 FRONT TWO JOINT DRIVE SHAFT
Tom Wood's offers a variety of drive shafts for the Land Rover / Range Rover applications ranging through the conventional two joint drive shaft, the conventional double cardan and a multiple double cardan drive shaft. If you have no lift on the vehicle, you are probably best served with the stock type drive shaft. If you have a lift on the vehicle you may want to consider a different design. The Land Rover drive shafts we manufacture use TW "Gold Seal" 1310 series universal joints. The 1310 series is the most common universal joint in the world used in many Ford, GM, Jeep & Dodge applications. It is very similar in size and strength to the factory original Land Rover universal joint. With the Tom Wood's drive shaft, you should never have a problem finding a replacement universal joint if it is ever needed.
*Please provide your flange to flange measurements in the notes when checking out so we can build this to your specifications. If we do not receive measurements then it will be made to stock length. 
FREE SHIPPING TO THE LOWER 48!

part number TWSC-D90F