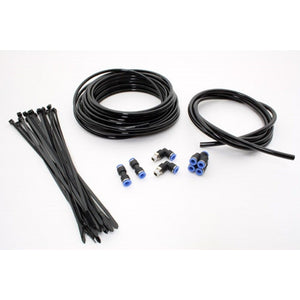 Wading Kit
Possibly one of the most important but least considered upgrades you could give your Land Rover. If fitting a snorkel is high up on your list of 'must haves' then a raised transmission breather kit should be higher. The real likelihood of the flood or river crossing being deep enough to require a snorkel is far less than the 18" of water that could potentially cost you a considerable amount of money rebuilding differentials. Almost all gearbox casings and fluid reservoir on a vehicle that heat up and cool down in operation will require a breather to accommodate the fluid expansion and contraction. Plunging a hot axle into cold water causes it to quench and suddenly contract and like taking a breath the axle casing sucks in air. If the axle is submerged it will almost certainly suck water passed the seals (designed to keep oil in not water out) which will mix with the oil, dirty water of course will quickly wear seals, bearings and gears and in no time cause failures. The more of your vehicle that is likely to be submerged the more items will benefit from breathers being extended. Terrafirma offers a range of kits for Land Rovers to cover all of the common casings such as, front and rear axle, gearbox & transfer box and timing case. Breathers are raised to the highest point of the vehicle commonly the snorkel. Fitting raised transmission breathers does not guarantee that water will not enter the axles and transmission especially on vehicles persistently used in deep water but it has been proven to significantly reduce the possibility and should rank as one of the most important off road accessories to be fitted. Fits Defender 90/110/130/D1/D2/RRC V8 models.
Fits:
Discovery I

 

| '94 - '99
Range Rover Classic | '87 - '95
Defender 90 | '94 - '97
Defender 110 | '93
Part Number: TF167
FREE SHIPPING TO THE LOWER 48!