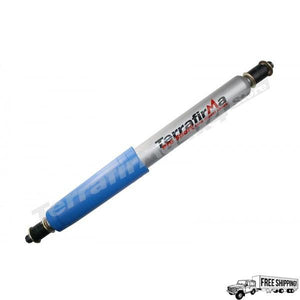 TERRAFIRMA +2" LONG TRAVEL REAR SHOCK
The most popular shock for off-roading Land rover owners, the Terrafirma Pro Sport is a true +2' (50mm) longer than standard allowing much greater wheel travel.The Pro Sport shocks are a super tough twin tube design with a massive 20mm shaft and 40mm piston. Low pressure nitrogen keeps the oil under pressure that prevents it from cavitating which causes shock fade, something the Pro Sport is never troubled with.Common with all Terrafirma shocks, Pro Sports are built with the largest possible fully welded mounting pins and rubber bushes for maximum strength and durability. Visually these shocks are striking and stylish, finished with a high quality deep silver paint to resist corrosion and including the smart Terrafirma Pro Sport shock absorber logo, a bright blue flexible polyurethane gaiter protects the double chromed shaft from stone damage.Terrafirma Pro Sport shocks are a big step up in performance and quality and are perfect when combined with Terrafirma coil springs to give a 2" (50mm) with a corresponding increase in wheel travel.Fits Defender 90, 110, 130, Discovery 1, Range Rover Classic. These are sold individually.
Part Number: TF121 
FREE SHIPPING TO THE LOWER 48!