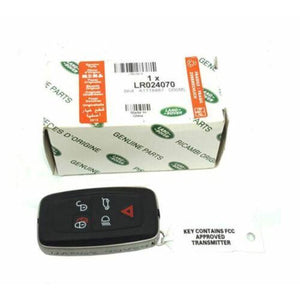 NEW Range Rover / Sport Keyless Entry Remote Control / Smart Key 315 Mhz Genuine
We have a New Genuine Remote Control.

Part# LR024070

Fits: Full-size Range Rover (2010-2012) and Range Rover Sport (2010-2011) only.

Will only work with 315 Mhz radio frequency door lock systems within the North American market.The remote must be programmed to your vehicle by your local Land Rover retailer.

Does not include the hidden emergency key blade. Key blade must be special ordered from Land Rover as an item coded and cut specific to your vehicle.