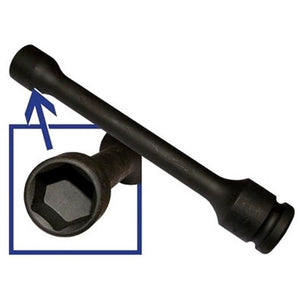 PROPSHAFT NUT & BOLT TOOL SET 1/2" DRIVE 9/16"
We have a New Prop shaft nut tool - 1/2" square drive.
Drive: 1/2" square drive
> Size: 9/16" 6 point (Hexagon)
> Total length: 150mm
> Outside diameter: 20mm

Specialist socket for prop shaft fasteners on most Land Rovers.
The 9/16" socket end is a perfect hexagon with rounded tip profiles to ensure the whole turning power is transferred onto the flanks of the nuts instead of on the corners.The socket's slim wall construction and wine glass profile, coupled to an integral slimline extension means it fits perfectly between the UJ yokes and over the prop shaft nuts without fouling.The 9/16" AF nuts are common to Series Land Rovers, Defenders (90 & 110 up to latest vehicles), Discoverys (up to and including Discovery 2) and Range Rovers (up to and including P38).
Fits:
Defender
Discovery 1
Discovery 2
Range Rover Classic
Range Rover P38
Series
Part Number: DA1119
FREE SHIPPING TO THE LOWER 48!