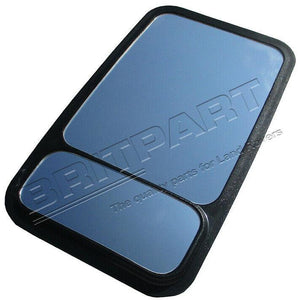 LaBlind Spot Mirror LH MUD UK
The MUD Defender Blind Spot Mirror is the latest innovative Defender product to come from the MUD design team.
Working closely with one of Europe's leading mirror manufacturers, MUD has created a retrofit mirror for the Land Rover Defender that incorporates a wide angle convex mirror to eliminate potentially dangerous blind spots. The Blind Spot Mirror function offers a huge improvement in road safety, making lane changing manoeuvres safer whether you're in slow or fast moving traffic.
Mirrors are sold in Right-hand and Left-hand configurations. The convex section is fixed and not adjustable.
The surface area of the XL Defender Mirror Head measures 245 x 140 (mm) compared with the standard mirror glass area of 198 x 124 (mm). The mirror area of the MUD Blind Spot mirror is 173mm x 127mm, and the convex section is 52mm x127mm.
The MUD Blind Spot mirror is a straight swap for the original Defender door mirrors, using the same fixing method as the factory mirrors and even retain the same styling as the original Defender door mirror to ensure an OE factory appearance.
The MUD Blind Spot Mirror is housed within a larger mirror head that in addition to providing a larger reflective surface area than the standard Defender mirror glass, features the convex wide angle mirror glass. The mirror insert can be flipped through 180 degrees within the mirror head so the wide-angle can be positioned at the top or the bottom of the mirror.
The MUD Blind Spot Mirror has been fully homologated, E marked and carries full EU Type Approval.

Part Number :  DA6550L