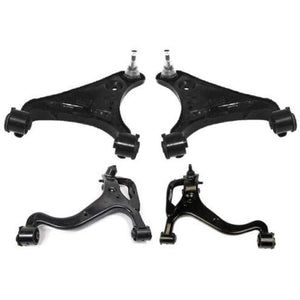 FRONT UPPER CONTROL ARMS FRONT LOWER CONTROL ARMS KIT
Does your Land Rover LR3 pulsate when stepping on the brakes? Do you hear a clunking noise when stopping or going over bumps? Chances are that your ball-joints and control arm bushings are worn out. We have for sale a brand new set of control arms for your 2005-2009 Land Rover LR3. This kit comes complete with both Front Lower Control Arms and both Front Upper Control Arms.
These are brand new units direct from the UK. All 4 control arms include new bushings and ball-joints already pressed in to make the job simple and complete the first time.
These units come with a 1-year warranty from the Manufacturer so you can drive with peace of mind. We are the only Land Rover Parts Dealer selling this kit on eBay, so rest assured you are getting the right parts for the right job.
Part Number: LR3FRCONTROLARMKIT
FREE SHIPPING TO THE LOWER 48!