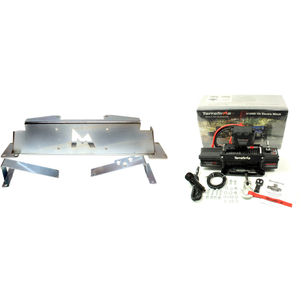 TerraFirma LR3/LR4 Hidden Winch Mount Kit
$1,19800

$1,198.00

Save $115
---
We have packaged together the TF097 TerraFirma hidden winch mount and their popular TF3301 TerraFirma 12k Winch. The winch comes standard with an 80' x 3/8" synthetic rope, aluminum hawse fairlead and a wireless remote control. Wired controller also included. These 2 items compliment each other nicely and will fit on all 2005-2009 LR3 Models as well as the 2010-2014 LR4. This will work on the 2015-2016 LR4 but spacers are needed for the front fairlead area. 
Fits:
LR3 /Discovery 3 2005-2009
LR4 /Discovery 4 2010-2014
Range Rover Sport 06 - 13 
Part Number: TFLR34HWMK
FREE SHIPPING TO THE LOWER 48!