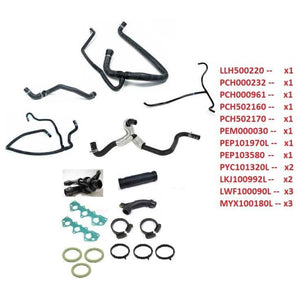 Complete Coolant Hose and Thermostat Kit
We have for sale a brand new Complete Thermostat Replacement Kit and Hose Kit for your 2002-2005 Land Rover Freelander with the V6 motor.

The Thermostat Kit comes complete with a brand new Thermostat w/ housing (PEM000030) New Thermostat to Water Pump Housing Pipe (PEP101970L) and a New Block to Heater Elbow Pipe (PEP103580), Clamp (PYC101320L), Intake Gasket (LKJ100992L), O Ring Upper Intake Manifold To Left Intake Manifold (LWF100090L), O-Ring - Intake Manifold Upper To Right Hand (MYX100180L).

The Hose Kit comes complete with Hose Valve Cover to Intake Manifold (LLH500220), Hose Radiator Upper (PCH000232), Hose Radiator Lower- Genuine (PCH000961) Hose Thermostat To Heater - Genuine (PCH502160), Hose Oil Cooler To Coolant Rail-Genuine (PCH502170).

Chances are, if your thermostat has gone bad, you will most likely need to replace these 2 pipes as well when doing the job. Get everything the first time to do the job right and be done with it. All of our parts are quality replacements sourced directly from our supplier in the UK.
Fits:
Freelander V6 | '02 - '05
Part Number: COOLTHERKIT110
FREE SHIPPING TO THE LOWER 48!